Latest loans will help fund developments in London and Liverpool
Strong loan activity reflects continued confidence in sector following delays to construction
Ingenious is today delighted to announce that Ingenious Real Estate Finance LLP (Ingenious Real Estate) has completed four new loans totalling £52million to fund new residential developments in Liverpool and across Greater London.
In Liverpool, Ingenious has agreed a development finance facility of £32.5m over 24 months to fund the remaining construction of 1,000 student units with café, gym, cinema, dining rooms, and study rooms in the city's Knowledge Quarter.
In London, Ingenious has agreed three loans totalling £19.8m for developments in Harrow, Hadley Wood and Croydon.
A facility of £11.4 million over a 22-month term, with a LTGDV of 70% has been agreed with developer Tremula Investments Limited to fund 40 flats in Harrow, North West London.
In Hadley Wood, North London, a £5.9 million development finance facility has been agreed with Toorak Apartments Limited over a 22-month term with a LTGDV of 66% to fund the demolition of the existing building and construction of a block of nine apartments – all completed to a high specification.
Finally, a £2.5 million facility has been agreed with Zunikh Property Developments to fund the development of six townhouses in Croydon, South London. Each unit benefits from three bedrooms, a study, private garden and roof terrace. The loan term is 18 months with a LTGDV of 70%.
We're really pleased to be able to support these projects in Liverpool and across London. We continue to see appetite for quality development deals across the country as pricing & demand remain strong. We're delighted to be working with all our partners on these projects and look forward to progressing with each development.
These latest loan agreements represent the continued demand for residential real estate development across the UK, despite initial concerns around delays to construction as a result of the impact COVID-19 had on the sector. Previous deals this year include a £19m loan facility with property developer Citu, to fund the next 120 units at the Climate Innovation District (CID), the UK's largest sustainable development, in Leeds; a £5.3 million loan facility to a joint venture between Indigo Capital Solutions and Blakesley Estates for a development in the seaside town of Westward Ho!, North Devon and a partnership with Piper Homes, to finance a £7.5 million loan for 26 family homes in the village of Upper Rissington in the Cotswolds.
Formed in 2013, Ingenious Real Estate focuses on providing senior development and bridging finance to well-designed schemes in locations across the UK that have a proven demand. Typical loan terms are 12-30 months, and the team has since completed more than £500 million worth of transactions. The current portfolio balance is weighted towards residential, with the majority of Ingenious developments qualifying for Help to Buy.
In September 2020, Ingenious became the first alternative lender to become a member of the UK Green Building Council (UKGBC). As part of this membership, Ingenious is actively seeking to engage through training programmes, thought leadership and access to the latest research so that it helps drive sustainable standards within the sector.
First published on Citywire NMA
For over a year, many investors have held off on making vital decisions due to the fear of the unknown, longer-term impact of the pandemic. While investors can be forgiven for their continued caution when it comes to making long-term financial planning decisions, they need to accept that yet another year or more of inaction brings its own real risk. And the longer they vacillate, the more risk they are taking in missing out on the potential benefits of the right financial strategy.
Advisers with clients planning for later life are typically looking to achieve steady, inflation-beating returns with low volatility. But investors are cautious about listed markets where they see high volatility driven by market sentiment, so increasingly, many are considering unlisted investments as they are not affected in the same way. Still, the pandemic has had a profound impact on most industries, but one sector that has remained resilient, and in fact surprised most with positive results, is residential real estate.
Residential real estate
The affordable end of the housing market benefits from some core fundamentals that helped it withstand the pressures experienced by other sectors. There is a structural lack of supply to meet demand in the UK and in 2018 alone, 80,000 fewer houses1 were built than were required. This has caught the attention of the Government and supportive policies such as Help to Buy has further sustained the demand for completed housing. Most recently, the Government identified the property sector as key to the UK's economic resilience and recovery from COVID-19, with other measures such as the stamp duty holiday contributing to average house prices ending 2020 up 8.5%2.
Conservative secured lending model
Despite these positive forces, there are risks with investing in the property market, so a conservative strategy is key to protecting investors. Rather than taking an equity or ownership position in a single housebuilder, developer or physical property, a portfolio-based, secured lending model offers a number of risk-mitigating benefits. By lending to a range of developers, carefully selected on a project-by-project basis, and earning a fixed rate of interest, there is inherently lower volatility. Protection is enhanced by taking a senior debt position on each development. Clear loan terms also mean that regular interest is paid, and the repayments of the loan begin as soon as discrete units of a development are sold, creating liquidity for the portfolio and maintaining diversification benefits for investors. By contrast, equity or ownership investments and their valuations can fluctuate over time as the asset price changes and ultimately, any drop in value is immediately felt by the investor. In the lending model, this isn't the case, and any loss in value is initially felt by the developer, not the lender.
How can your clients benefit across later life
While this strategy has been proven to deliver steady investment growth over time for investors in the post-retirement stages of their lives, they often have an additional objective to consider. How can they pass on maximum wealth to their loved ones when they die? There are two contributory parts to this objective. First, which we have already covered, is the need to grow their wealth to combat the effects of inflation and drawdowns. Second, is the wish to mitigate the impact of Inheritance Tax, which can reduce one's legacy by 40% upon death. Business Relief services are a popular way for investors to select an investment that meets both their growth target and the objective to optimise wealth transfer. They also retain full access to their savings in case their circumstances change, or an emergency arises. This level of flexibility and security should ease the concerns of investors who are paralysed by caution in these uncertain times and allow them to confidently plan for their future goals today.
1Savills, 2018
2ONS, UK House Price Index: December 2020
First published on TheWealthNet
There is an increasing demand from advisers and wealth managers for services that deliver across a wide spectrum of client needs in later life. From investment growth to estate planning and preparing for care, it is clear to see that later life is one of the most complex areas to plan for. At Ingenious, we recognise that financial planning and planning for care go hand in hand, which is why we work closely with Grace Consulting, one of the UK's leading Care advisory services. We recently spoke to their Managing Director, David Nugent, to discuss the growing demand for care and how planning can create a more positive outcome for individuals.
Can you put into context the magnitude of the requirement for care today?
In the next 20 years, our population will age, with 50% more over 65s and 93% more over 85s1. Nearly one in 6 people will reach their 100th birthday in 20402. This is all great news as it is down to advances in medicine and lifestyle choices. However, it of course comes with its own challenges. In the later part of their lives, many are living with disabilities, such as dementia or arthritis, or the lasting impacts of a stroke or fall. And indeed, even those who are physically healthy may suffer with loneliness. This will result in a huge rise in care needs for a large part of the population. In England, more than 1 in 3 people aged 85+ will require some form of care1.
What are the greatest challenges that individuals and families face when it comes to care?
The answer to this is three-fold.
· The provision of care
There is an existing undersupply in care facilities in the UK and a lack of planning to increase this provision to meet the increasing demand outlined above. In fact, the provision has reduced over recent years with the number of care-at-home hours falling by 3,000,000 between 2015 and 20181, for example. Due to the lack of funding, private funders, who make up a substantial proportion of the total number in residential care are having to subsidise state funded spaces. This makes it even more important for people to ensure they are getting care that is right for them.
· Lack of information about care
The increasing need for care, combined with the longer amount of time people are spending in care, means that making care arrangements is a more important decision than it once was. However, whilst the Care Act has put a duty on local authorities to make information available to ensure people are aware of the options that may be available to them, in practice this information may be limited, or may simply signpost individuals to generic materials that are not tailormade for the particular person or their circumstances. Similarly, those that search for information online are unlikely to find all the information they need, and there is no guarantee that what they do find is current or accurate.
· Cost
Care is expensive and in the last 10 years, prices have increased considerably faster than the Retail Price Index.
How can people deal with these challenges?
The need for care is becoming one of the sad realities of modern living. The real challenge is turning this reality into a positive experience, not something that is bolted onto life in an emergency. The best way to achieve this is through forward planning and preparation. There are two main areas people should prepare for:
The first is financial preparation. It is important to understand the funding provided by the state when it comes to care. Most funding is means-tested and in England, for example, local authorities do not typically provide financial assistance for anyone with capital over £23,250 (and if you're looking for residential care, this will include the value of your home if you live there alone). There is some non-means tested support available in certain circumstances, but it is limited.
Assuming your clients have assets over £23,250, they will probably be liable for the full cost of their care, so how much should they expect this to be? Care options vary hugely of course, from assisted living to care at home and residential care, but to give you an idea, two hours of care at home per day could cost around £18,000 per year and residential care can cost over £65,000 annually.
This means financial preparation for care needs to be considered early on and not just by the elderly. And importantly, people need to retain access to their money. We see many people who have prepared for legacy planning, resulting in funds being tied up in trusts, or families who have gifted money to their children and need to ask for it to be returned. That is one of the reasons Business Relief Services are becoming increasingly popular, they can offer both investment growth and access to savings.
The second crucial area of planning is practical preparation. This is wide ranging, but to give some examples:
Have conversations within the family about the individual's expectations and wishes
Have a needs assessment carried out to see if there are any early steps that can be taken to prevent some of the issues we have stated as being a cause for care needs, for instance, falls or loneliness
Consider the different types of care available and if residential might be an option, research and select a preferred home. Many homes have long waiting lists and so joining this can give you far more choice in an emergency, you don't have to take up a place if it is not needed
All of these steps can contribute to a far better outcome for the individual and their loved ones. Having a contingency plan in case of emergency helps many people to stay in control of their situation and not need to make such hurried decisions, for instance when discharged from hospital.
That all sounds very simple, but with the challenge of a complicated system that you identified earlier, where should people start?
I wholeheartedly encourage people to engage with expert advice when it comes to preparing for care. It is something we often deal with only once in our lifetime and the stakes are high, it is important to get care right. On average, people spend two and a half years in care2 and that is a significant amount of time if you, or your loved ones are unhappy with the choice. Independent advice can help by including the whole family and supporting a plan that is truly tailored to their needs, rather than having to take the first option available.
What is the cost for a care advisory service?
At Grace, we supply many families with advice across different price brackets and our services are available to many of the UK's leading financial providers. Packages range from £295 to £2,450. However, investors in Ingenious Estate Planning benefit from our most comprehensive service, for themselves and their families, at no cost.
1 Age UK, Briefing: Health and Care of Older People in England 2019
2 Office for National Statistics, National Population Projections (UK) & Cohort Life Expectancy Tables (UK)
Grace Consulting provides independent care advice, and is not registered with the FCA as it is not authorised to provide financial advice.
Finance facility of £5.3 million agreed for North Devon development joint venture between developers, Indigo Capital Solutions and Blakesley Estates
Partners with established new homes builder, Piper Homes, to finance a £7.5 million loan for 26 family homes in the Cotswolds
Ingenious is today delighted to announce that Ingenious Real Estate Finance LLP has completed two new loans totalling £12.8 million to fund new residential development projects in North Devon and the Cotswolds.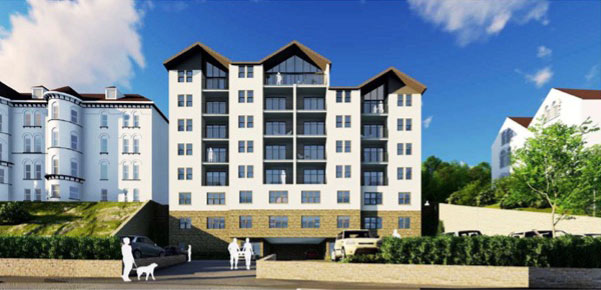 Ingenious is providing funding for the development of 22 apartments to a joint venture between Indigo Capital Solutions and Blakesley Estates in the seaside town of Westward Ho!, North Devon. The facility is £5.3 million over a 22-month term, with a Loan-to-Gross-Development-Value (LTGDV) of 69%. The apartments will benefit from sea views and be completed to a high specification.
In addition, Ingenious has partnered with established new homes builder, Piper Homes, to finance a £7.5 million loan for 26 family homes (four flats and 22 houses) in the village of Upper Rissington in the Cotswolds. The loan term is 21 months with a LTGDV of 70%. The new homes will be ideally situated just a short walk from the outstanding Rissington Primary School as well as local amenities. This will be the third project on which Ingenious has partnered with Piper Homes.
Tom Brown, Managing Director of Real Estate at Ingenious, commented: "We're really pleased to be able to support these two projects in Devon and the Cotswolds. This represents the third time we have worked with Piper Homes and we're delighted to be working with them again on this exciting new development."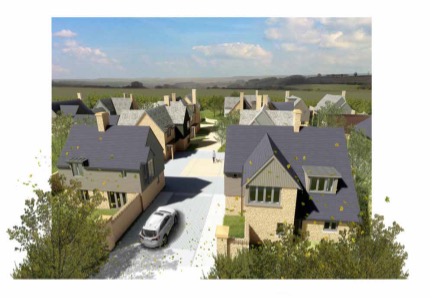 As the economy continues to reopen and recover, we are determined to source, fund and commit to high quality developments across the UK and continue to seek further, similar development opportunities. We are cautiously optimistic about the prospects for the real estate sector, particularly the continued demand for residential property, and we remain committed to providing flexible, cost effective financing solutions for our clients.
Formed in 2013, Ingenious Real Estate focuses on providing senior development and bridging finance to well-designed schemes in locations across the UK that have a proven demand. Typical loan terms are 18-30 months, and the team has since completed more than £480 million worth of transactions. The current portfolio balance is weighted towards residential, with the majority of Ingenious developments qualifying for Help to Buy.
In September 2020, Ingenious became the first alternative lender to become a member of the UK Green Building Council (UKGBC). As part of this membership, Ingenious is actively seeking to engage through training programmes, thought leadership and access to the latest research so that it helps drive sustainable standards within the sector.
When it comes to estate planning, Business Relief (BR) services are a popular choice for investors who would like to retain control of and continue to grow their wealth, whilst mitigating against Inheritance Tax. And whilst these aspects of estate planning have been objectives anticipated by advisers for some years, increasingly there is an additional challenge. Environmental, social and governance (ESG) factors are an ever-rising priority for many clients, especially as significant wealth is transferred to a younger and more socially conscious generation.
One investment strategy that can offer compelling returns for BR investors is secured lending to the real estate sector. Through investing in portfolio companies that provide senior, asset backed loans to developers on a project-by-project basis, investors have achieved steady returns with low volatility in a challenging investment environment. The real estate sector is not often considered to hold any ESG credentials, due to the perceived environmental impact of construction. However, in parts of the market, a focused investment strategy, construction reforms and Government initiatives can make for a more socially conscious investment opportunity than may present itself at first.
Social impact
There is a longstanding, structural shortage of affordable housing in the UK, leaving huge pent up demand in communities across the country. Without alternative lenders funding development projects across a diverse range of locations, this is set to worsen and could push affordability further out of the average household's reach. The supply deficit has been recognised by Governments for several years. In response, a raft of policies have been enacted, for instance, Help to Buy, that has enabled many, often first-time buyers onto the property ladder at a more affordable level than would ordinarily be possible. Whilst this makes for a compelling investment opportunity, it also means investors can make a real social contribution by supporting the Government's objective to build more affordable housing.
Sustainability
However, the pressing issue of the environmental impact within residential real estate investment remains and if we are to meet the nation's Net Zero 2050 targets, the construction industry must play a big part. Currently, according to the UK Green Building Council, the total built environment accounts for over 40% of the country's carbon emissions, with half of that coming from the construction and operation (such as heating and cooling) of buildings. If the UK is to meet its commitment to become carbon neutral within the next 30 years, a fundamental shift is required in the delivery and design of new developments.
In September 2020, Ingenious became the first alternative investor to become a member of the UK Green Building Council (UKGBC), signing up to its mission statement to radically improve the sustainability of the built environment, by transforming the way it is planned, designed, constructed, maintained and operated.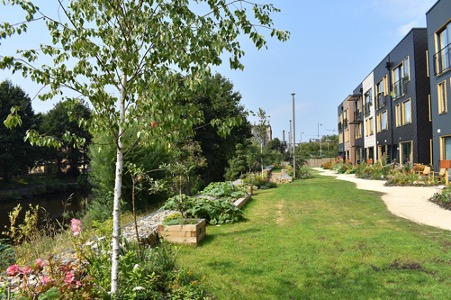 At Ingenious, we are committed to financing more sustainable developments and we have ambitious targets to increase the portfolio's exposure to them in 2021. An example of the developments we will support as part of this effort is the Climate Innovation District (CID) in Leeds. In January, Ingenious completed a £19 million deal to fund the second phase of this development, which will ultimately become the UK's largest urban sustainable development1.
The developers, Citu, are committed to building sustainable homes that people want to live in. The structural frames, built in a factory local to the development, are made from timber, which is carbon negative. Windows are triple glazed for maximum efficiency and the houses are so energy efficient that the roof mounted solar panels create more energy than is required by the buildings, so it can be sold to the national grid. The MVHR heating system provides fresh air circulation while keeping heat within the building. In the communal areas, there are green walls, sympathetic planting to encourage bees and butterflies and even an otter house at this riverside location.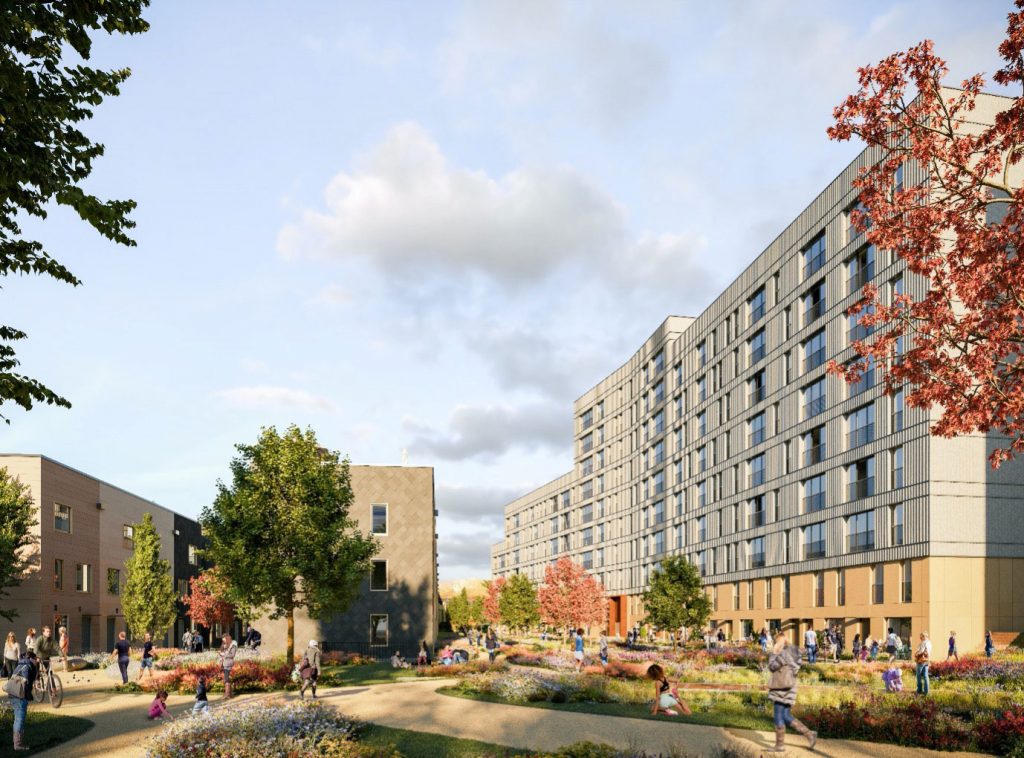 Combining the social impact of the contribution towards building affordable housing and the environmental impact of driving more sustainable practices within the construction industry, loan finance for real estate development projects can not only be an effective investment to grow wealth while mitigating IHT, but is an increasingly valid option for ESG conscious investors.
1Citu & Knight Frank, Climate Innovation District Information Memorandum, 2020
First published: FT Adviser
Article by Matt Dickens, Senior Business Development Director
Later life planning has become more topical than ever over the past year as our whole industry has worked hard to absorb the changes brought about by the pandemic, progressing financial planning to meet the "new normal". This article explores three of the greatest challenges later life planners currently have to consider and prepare for, tax changes, market volatility and the cost of care, and shows how a comprehensive later life plan, delivering more than just estate planning for inheritance, is increasingly important.
1. The threat of tax rises
In 2019, the new Conservative Government, facing the challenge of delivering an orderly Brexit, but not yet dealing with the impact of a global pandemic, promised there would be no changes to Income Tax, National Insurance or VAT. Eighteen months on, they find themselves in an unprecedented economic scenario, with a deficit of £394 billion1 (19% of GDP), its highest level since 1945. While commentators remain focused on the ongoing pandemic and its impact on both lives and livelihoods and when it might come to an end, they also have one eye on the issue of paying for the extreme lengths the Treasury has gone to, to keep the country financially afloat. Likewise, investors are equally mindful of this issue – if the Government needs to balance the books through fiscal policy, how will any decision made now fare in a post-pandemic financial future?
For advisers, there are two clear ways to approach this planning dilemma.
Firstly, one could attempt to foresee the future and plan for the measures that might be implemented in the coming months and years. The problem with this approach is that one would need a crystal ball.
Secondly, one could accept that there is no way to predict the measures that will come into effect and wait until there is some form of clarity. But herein lies the problem of delay in the face of continued uncertainty. For almost a year now, many have held off on vital long-term plans due to the fear of the unknown, yet they need to accept that another year or more of inaction due to the potential of further uncertainty comes with its own real risk. And the longer it goes on, the more risk they are taking.
The simple answer to this conundrum is to embrace a strategy which remains flexible to any possible changes, but in the meantime delivers on the key outcomes the client requires. Any financial planning strategy needs to stack up in line with the wider objectives of the investor, such as achieving investment growth, rather than focusing purely on the tax advantages of a particular strategy, as these could change or even disappear. This is why I believe advisers should be developing a wider later life planning proposition, and not just narrowly focussing on estate planning.
Here is an example of a desired outcome of someone planning for later life;
To invest capital in a way that maintains flexibility throughout later life to pay for any unplanned needs, but also consider any potential care needs that might be needed, knowing that their wealth has been successfully grown up to the point of death, so maximising the legacy that will be passed onto the chosen beneficiaries.
Breaking it down into individual objectives:
Maximise wealth through continued investment growth
Maintain flexibility and access to the investment, so they can make regular or lump sum withdrawals
Provide both financial and logistical support to the delivery of care needs if ever needed
Reduce the potential for Inheritance Tax (IHT)
Note the desire to reduce any IHT payable is deliberately last on the list of desired outcomes. The danger of focussing on the estate planning part of these objectives is twofold. Firstly, the threat of impending tax changes, or tax relief changes, causes uncertainty as to the efficacy of any purely tax-focussed strategy. And this remains the case whether one feels they can predict the future or not!
Secondly, the danger of ignoring the other higher priority objectives, as many tax-focused strategies are a one trick pony and restrict the potential for wider benefits. In this case, the investor may have to forgo any long-term investment growth, or the flexibility to easily and predictably access the investment to pay for care, for instance.
So, when considering the threat of tax changes to later life planning, the approach should always be to allow the investment rationale and wider utility of the service you recommend to lead the planning decisions, rather than just narrowly focusing on the tax benefits.
2. Ongoing volatility
Another challenge that is particularly unwelcome in later life and particularly visible in the current environment is the potential for continuing investment volatility. In this phase of their lives, investors are unlikely to have the flexibility to "time the market" when they want access to their wealth. For instance, making a withdrawal to help family members in need, pay for care requirements or ultimately passing the investment onto beneficiaries upon death. These are not predictable events. Reflecting upon the volatility of markets in 2020 and the uncertainty of 2021 and beyond, investors may well be minded to forgo any potential upside of an investment, perceiving them as too risky.
However, an alternative, as many asset managers have been doing over the last decade, is to look to private investments that are not exposed to market sentiment in the same way as listed investments are. While on the face of it this sounds riskier, certain investment strategies can provide investors with an appealing level of security and predictable returns. One way to do this is via private companies that engage in secured lending. By their nature, loans carry lower risk than equity investments as they do not fluctuate in value over time. Senior, asset-backed loans provide the investor with additional protection against any loss in value. Executed within sectors that are demonstrating strong resilience to the pandemic and any ongoing Brexit effects, these loans can provide an attractive return with low volatility. Such companies are common investments for Business Relief qualifying services where services should be valued on their "fundamentals" not reliant on positive investor sentiment.
3. The ever-increasing demand for care services
In the same way that the increasingly maturing cohort called the baby-boomers have recently come under detailed discussion by advisers with respect to their intergenerational planning needs, the same level of consideration should also be given to their increasing need for long-term care. During the pandemic, the importance of and reliance upon the UK's care system has become very clear, yet there is an insufficient level of planning taking place to ensure that people are prepared. Research shows that the majority of family members who have experience of a loved one being in care were not satisfied with their experience. One of the factors that can surely make this unfortunate outcome more comfortable is being prepared, both financially and through being armed with knowledge or advice on this complex sector.
This is why it is more important than ever to flexibly have access to one's wealth in later life. It is impossible to predict what any one person's needs are going to be in the future and so separating money to prepare for care and to prepare for estate planning is futile. At the same time, perhaps the need will not arise and so the money could be contributing to the investor's other objectives rather than being held back from an investment. So, undoubtedly a flexible posture to later life planning is key and if the investment can gain value over time to contribute to paying for life's needs then all the better. The final benefit that could assist with this challenge is a specialist care advice service, which is included for all Ingenious Estate Planning (IEP) investors. As well as advising clients and their families on the vagaries of the UK's complex care system, the IEP Care Service helps investors to make decisions in a time of need and stress. Specialist, independent advisers give individuals and their families invaluable support, liaising between the NHS and care providers to achieve the best possible care outcomes.
2020 brought several challenges faced by later life planners into sharp focus. The pandemic made us far more aware of our mortality and the importance of planning ahead. The next 12 months should herald an opportunity for wealth managers to scrutinise the later life services they offer to see if they really deliver on the outcomes and needs that their clients are after in the light of the future issues they may face. If there was ever a reason to adapt to changes in the external environment it would be now, before risking losing touch with those who do. 2021 should be seen as a great opportunity. Only by considering any changes to the legislative landscape, delivering consistent and attractive risk-adjusted returns and considering any future needs and costs of our clients, can we deliver a truly robust and value-adding financial later life plan for investors who need it.
1Office for Budget Responsibility, Economic & Fiscal Outlook, November 2020
Facility will support the continued growth of Ingenious Real Estate Finance's development and bridging finance portfolio
Since launching in 2013, Ingenious Real Estate Finance has deployed over £500m in UK residential and commercial loan facilities and assisted in the development of over 2,400 units

Ingenious announces that Ingenious Real Estate Finance has secured a £25m revolving credit facility from Shawbrook Bank, the specialist UK savings and lending bank, to support the growth of its development and bridging loan portfolio.
The wider Ingenious Group was founded in 1998 and is one of the UK's leading private alternative investors, having managed the deployment of over £9bn across the real estate, infrastructure, media and education sectors.
Ingenious Real Estate Finance is focused on mid-market stretched senior and bridging finance on residential and commercial development projects located primarily in London, the South East and other major regional centres of England and Wales and their commuter belts.
The growth of Ingenious Real Estate Finance's development and bridging finance portfolio is being supported by Shawbrook Bank's Specialist Wholesale team. Shawbrook has provided a bespoke facility to meet specific funding requirements.
Howard Sefton, Investment Director at Ingenious, said: "Ingenious Real Estate Finance is delighted to announce this new key strategic partnership with Shawbrook Bank. The new term revolving credit facility will assist in funding further growth in our real estate backed development and bridge finance business in 2021 and beyond."
Stuart Mogg, Corporate Finance Director at EY, said: "We are delighted to have supported the team at Ingenious on such an important capital raise. It has been a pleasure working with Tom, Howard and Wensde along with the rest of the Ingenious team. We look forward to working with them again in the future.
"Executing the deal under remote working conditions demonstrates our flexible approach and ability to adapt to a complex situation and help support our clients. I would also like the thank the teams at Shawbrook, Travers Smith and Ashurst for adapting their approaches during this challenging time."
Warren Mutch, Structured Finance Senior Director at Shawbrook Bank, said: "Ingenious Real Estate Finance is a well-established lender that is expanding its footprint in the development finance market. We have been very impressed with their offering and management team and look forward to working with them. Equally, we continue to enjoy a strong relationship with EY's Debt Advisory team as a regular introducer of funding opportunities and we are pleased to get 2021 off to a strong start with them."