Ingenious backed Crimes of the Future from the legendary director David Cronenberg will hold its world premiere at the upcoming Cannes Film Festival. Starring Viggo Mortensen, Léa Seydoux and Kristen Stewart, the story is set in the not too distant future in a time when humankind has learned to alter their biological makeup – some naturally and some surgically.
In an interview with Deadline, asked about going back to Cannes following the controversy surrounding his 1996 film Crash, the director said "Well, I'm not nervous. I'm looking forward to it because you make a film to have people react to it. And, as usual — and I've said this many times — I'm not making a movie to shock people or assault them. I'm saying, "These are things I've noticed. These are ideas I've had. These are dreams that have troubled me. I'm showing them to you. You can interpret them as you wish. I just think you maybe would be interested in experiencing these things as I have experienced them." That's my approach, and you get a huge variety of responses. "
Cronenberg has been an inspiration to filmmakers and audiences worldwide with films such as The Fly, A History of Violence and Eastern Promises. Crimes of the Future will be released in France following its Cannes premiere and in June in the United States.
Two Ingenious-backed films, both comedy-dramas and both based on real-life stories, have been enjoying critical and box office success in recent weeks.
The first, The Duke, starring Jim Broadbent and Helen Mirren, tells the story of Kempton Bunton, a 60 year old self-educated taxi-driver, who in 1961 steals Goya's portrait of the Duke of Wellington from the National Gallery in London in what might best be described as a philanthropic heist.  Set partly in industrial Newcastle upon Tyne and partly in early '60s London, the film is already being cited as a comic masterpiece.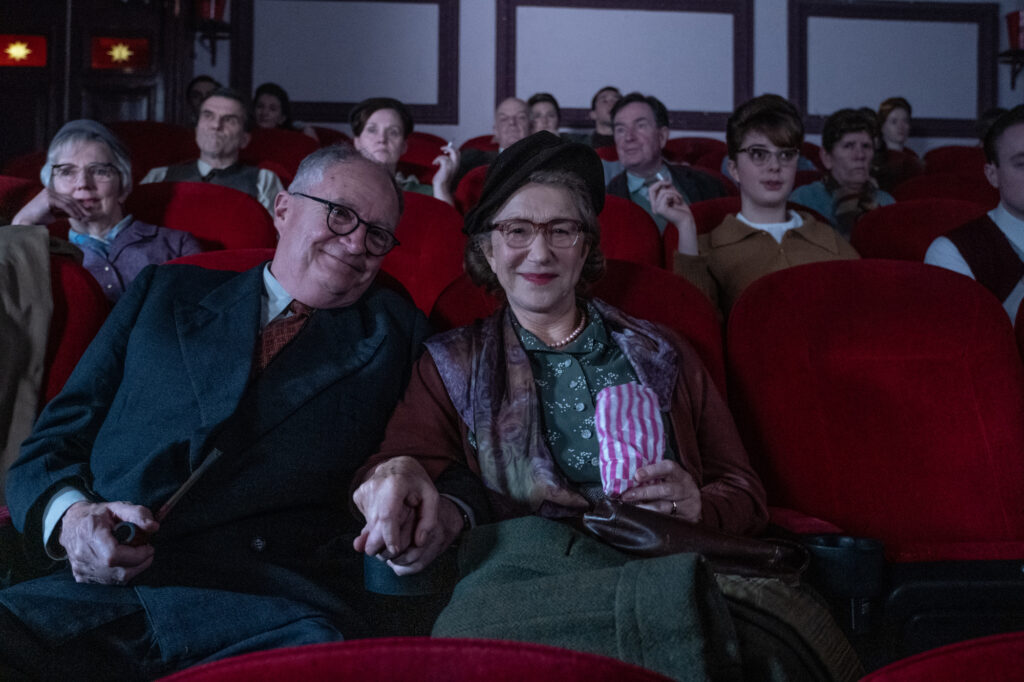 Jim Broadbent gives the performance of his life in a movie which, sadly, was the last feature film to be directed by the great Roger Michell, who died in September 2021.  It was awarded five stars by The Guardian and the Daily Telegraph at its world premiere at the Venice Film Festival in 2020. The film's theatrical release was delayed by Covid but has been a great hit with the public since it opened in February.
The second film, Phantom of the Open, directed by Craig Roberts, stars Mark Rylance as Maurice Flitcroft, an amateur golfer, dreamer and unrelenting optimist, who succeeded in gaining entry to the British Open Golf Championship Qualifying Competition in 1976 where he shot the worst round in Open history, infuriating the golfing establishment and becoming a folk hero in the process.  Also starring Sally Hawkins and Rhys Ifans, the film is remarkable for Mark Rylance's perfectly pitched performance as the defiantly hopeful amateur Flitcroft, a role which the actor plays straight to great comic effect.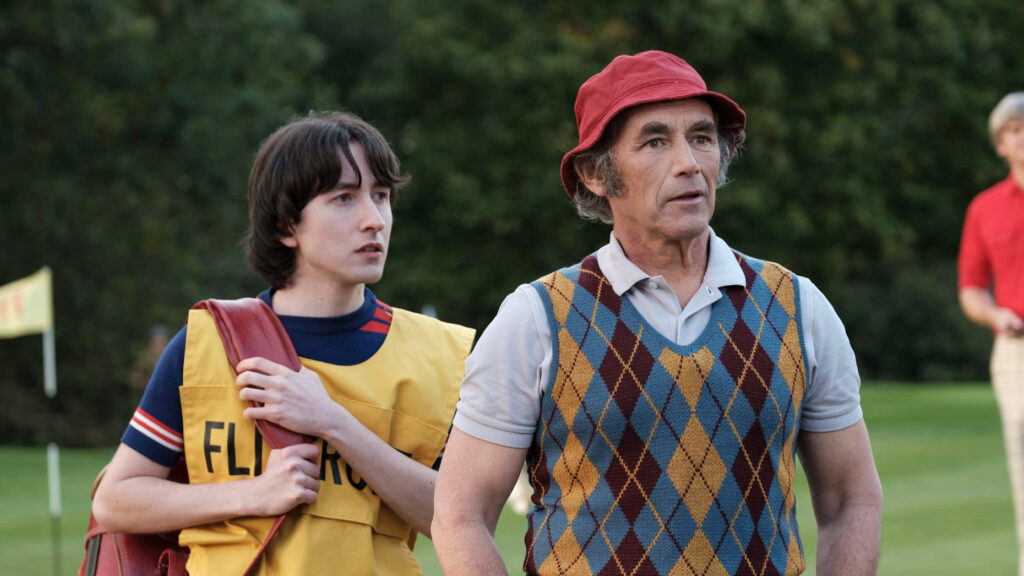 Phantom was released in March in the UK and, like The Duke, is proving immensely popular. This is a relief for the whole industry.  Over the last two years the pandemic has cast a large shadow over the theatrical box-office for film, with cinemas closed for long periods and audiences evidently reluctant to return other than for occasional super-hero Hollywood movies like The Batman and action-thriller blockbusters like the James Bond film No Time to Die.  
But the tide is now turning, and it is high quality, quintessentially British films like The Duke and Phantom of the Open that are currently proving instrumental in attracting nervous audiences back to broader cinematic fare. Ingenious is delighted to have worked with long established partners the BFI, BBC Film, Pathe, eOne, Cornerstone, Baby Cow and Screen Yorkshire to bring these two films to the public. Both films will shortly be released in the United States by Sony Pictures Classics.
On 23rd March it was announced that the NFTS Board of Governors had appointed Sophie Turner Laing, former CEO of Endemol Shine and MD of Sky, as its new incoming Chair. She becomes the School's first female chair, succeeding Ingenious founder Patrick McKenna, who will step down at the end of his final term in August, having held the post since 2013.
The NFTS, which has some 600 students studying a wide variety of industry focused MA courses, Diplomas and Certificates covering the whole screen sector, from film and TV to animation and games, has regularly featured in The Hollywood Reporter's annual ranking of the world's top ten film schools. It has been described by The Guardian as the world's best film school, reflecting the fact that the School's graduates are invariably snapped up by industry on graduation, demonstrating the unique strength of the School's distinctive teaching model, which is strongly influenced by commercial partners. These include the BBC, Channel 4, Sky, Disney and Amazon.
Patrick's leadership of the School has been transformational. It has greatly expanded its educational footprint, with the opening of state-of-the-art equipped premises in Beaconsfield and new teaching facilities in Glasgow (NFTS Scotland), Leeds (NFTS Leeds) and Cardiff (NFTS Wales). The number of students taught has more than doubled, whilst the progressive change in the School's gender and ethnic balance within the student body has set the standard for improving performance on diversity in recruitment.
Patrick has done a phenomenal job as Chairman. During his tenure, the NFTS was the first ever film school to win a Queen's Anniversary Prize for Higher and Further Education and the first educational institution to be awarded a BAFTA for Outstanding British Contribution to Cinema, in recognition of the role it has played developing British creative talent.

I have many happy memories of working with Patrick and would like to thank him for the invaluable support and advice he has given to me personally, and to the School more broadly over the past nine years.
Ingenious Media is proud to present two films in the upcoming Cannes Film Festival, running from 6 to 15 July, moved from its usual May berth due to the pandemic.
The first, Flag Day, is directed by Sean Penn and stars his daughter Dylan in a breakout role, together with Penn himself, Josh Brolin and Katheryn Winnick. Flag Day will hold its World Premiere in the Official Competition. Following its selection announcement, MGM acquired North American distribution rights and will release the film via its marketing-distribution joint venture United Artists Releasing in August this year. Flag Day is based on Jennifer Vogel's memoir Flim-Flam: The True Story of My Father's Counterfeit Life. It tells the story of the author's coming of age, played by Dylan Penn, over two decades while navigating a fraught relationship with her beloved, career criminal father.

The second Ingenious-backed production will screen in the new Cannes Première section. Oliver Stone's new feature documentary about the assassination of US President John F. Kennedy, JFK Revisited: Through The Looking Glass, is narrated by Whoopi Goldberg and Donald Sutherland and includes a team of forensics, medical and ballistics experts, historians and witnesses. The documentary comes thirty years after Oliver Stone's Oscar-winning drama JFK and will feature recently declassified evidence and testimony in relation to the President's 1963 assassination. Altitude Film Distribution will release the film in the UK and Ireland.
Ingenious Media is proud to announce that three films produced by investee companies managed by Ingenious have been selected for the Venice and Toronto Film Festivals.
The Duke: produced by Great Bison Productions, directed by Roger Michell and starring Jim Broadbent, Helen Mirren and Matthew Goode. In 1961, Kempton Bunton, a 60 year old taxi driver, stole Goya's portrait of the Duke of Wellington from the National Gallery in London. He sent ransom notes saying that he would return the painting on condition that the government invested more in care for the elderly. What happened next became the stuff of legend. An uplifting true story about a good man who set out to change the world and managed to save his marriage. Read the Variety Review
The World to Come: produced by Panasper Films, directed by Mona Fastvold, starring Vanessa Kirby, Katherine Waterston and Casey Affleck. Somewhere along the mid-19th century American East Coast frontier, two neighboring couples battle hardship and isolation, witnessed by a splendid yet testing landscape, challenging them both physically and psychologically. (In Venice Competition). Read the Variety Review
Falling: produced by Achille Productions, this is Viggo Mortensen's directorial debut, which he also wrote and stars in. The film explores the fractures and contrasts that make up a modern family, whilst being an intimate drama about a son's relationship with his aging father, played by Lance Henriksen. The film premiered at the Sundance Film Festival, was one of this year's Cannes Festival official selections and has been selected for the Toronto Film Festival. The film will also screen at the San Sebastian Film Festival where Viggo Mortensen will receive the prestigious Donastia Award in recognition of his career. Read the Variety Review
Ingenious is proud to congratulate Renée Zellweger on her Academy Award® for Best Actress for her role as Judy Garland. Judy was produced by Confit Productions, an investee company managed by Ingenious, with partners Pathe, BBC Films and Calamity Films.
The Oscar® win completes a busy awards season for the film during which Renée Zellweger won every major award for Best Actress, including the Golden Globe, the Screen Actors Guild award and the BAFTA award.
To date the film has achieved over $39m in Worldwide Box Office, including $24m in North America, where it was released by LD Entertainment and Roadside Attractions.
We are proud to announce that two films produced by investee companies managed by Ingenious will showcase at the forthcoming Berlin Film Festival:
Minamata: produced by Golan Films and directed by Andrew Levitas. Three-time Academy Award® nominee Johnny Depp plays celebrated war photographer W. Eugene Smith in a real life David vs Goliath story, pitting Smith against a powerful corporation responsible for poisoning the people of Minamata, Japan in 1971. With the glory days of World War II far behind him, Smith has become a recluse, disconnected from society and his career. Between an impassioned Japanese translator called Aileen (Minami) urging him to go and a much needed comission from "Life" Magazine editor Ralph Graves (Nighy), Smith is finally convincd to journey back to Japan to expose the devastating annihilation of a coastal community, victims of corporate greed and complicit local police and government. Armed with only his trusted Nikon camera, Smith must find the images that will bring this story to the World. At first, no one wants to help him and there's a new threat at every corner. But thanks to his burgeoning love for Aileen, Smith learns to stop hiding behind to finally stop hiding behind the lens and to start taking action, helping him earn this broken community's trust. Minamata is a moving redemptive story of how one man's powerful photograph impacted the world, yet in order to find it he had to open his heart. (Gala Premiere)
The Roads Not Taken: produced by Glasal Films. Directed by acclaimed writer-director Sally Potter provides Academy Award® and Golden Globe-winning actor Javier Bardem with a role that showcases his unique versatility. He is joined by Academy Award® nominee Salma Hayek, and three-time Academy Award nominee Laura Linney for the film, a masterful and touching chronicle of a day in one man's life, and of the unconditional bond with his daughter, played by Elle Fanning. The film follows 24 hours in the life of father and daughter Leo (Bardem) and Molly (Fanning) as she grapples with the challenges of dealing with her father's chaotic mental state. But as they weave their way around New York City, their ordinary but stressful day takes on a hallucinatory and epic quality, for Leo is seamlessly flowing in and out of several parallel lives; a passionate marriage with his childhood sweetheart Dolores (Hayek) in Mexico; and a life of solitude on a remote Greek island, where a chance encounter with two young tourists unmasks the uncomfortable truths of a family life left behind…The film weaves a rich, cinematic tapestry as Leo's parallel lives – visible only to him – gradually unravel in moments of tragedy, happiness, regret and humour. It is only his daughter who gradually begins to understand his extraordinary secret. (In Competition)
We are proud to announce that four films produced by investee companies managed by Ingenious will showcase at the forthcoming Sundance Film Festival:
Possessor: produced by Rakija Films, directed by Brandon Cronenberg (the son of the legendary David Cronenberg) and starring Andrea Riseborough. VOS is an agent for a secretive organisation who uses brain-implant technology to inhabit other people's bodies, driving them to commit assassinations for the benefit of high-paying clients. But something goes wrong on a routine job, and she soon finds herself trapped in the mind of a man whose appetite for violence rivals her own. (World Cinema Dramatic Competition)
Worth: produced by Wiffle Films, starring Michael Keaton and Stanley Tucci, the film follows the effort of Kenneth Feinberg, a powerful Washington lawyer put in charge of the 9/11 Victim Compensation Fund who, in almost three years of pro bono work on the case, fights off the cynicism, bureaucracy and politics associated with administering government funds. In doing so, he discovers what life is worth. (Premiere Section)
Falling: produced by Achille Productions, this is Viggo Mortensen's directorial debut, which he also wrote and stars in. The film explores the fractures and contrasts that make up a modern family, whilst being an intimate drama about a son's relationship with his aging father, played by Lance Henriksen. (Premiere Section)
Dream Horse: produced by Popara Films, starring Toni Collette and Damian Lewis, this is based on the true story of one woman's extraordinary ambition to breed and raise a champion racehorse in her home village in Wales. Sundance premiered a documentary called Dark Horse in 2015 which was based on the same story so Dream Horse is a Sundance alumnus of sorts. The film will be released by Warner Bros in the UK in April 2020, by Bleecker St in the US shortly thereafter and by Sony in the majority of the rest of the world. (Premiere Section)
Ingenious Media is proud to announce that seven films produced by investee companies managed by Ingenious will showcase at the forthcoming Venice and Toronto Film Festivals.The Burnt Orange Heresy, produced by Achille Productions, has been selected as the closing film of the Venice Film Festival and will also screen at the Toronto Film Festival. Starring Claes Bang, Elizabeth Debicki, Donald Sutherland and Mick Jagger this noir thriller tells the story of an art critic who is hired to steal a painting from one of the most enigmatic artists. The operation spins out of control as he becomes consumed by his own greed and insecurity.
Seberg, produced by Nelly Films, narrates the true story of an FBI Agent, played by Jack O'Connell, who is assigned to investigate the iconic actress Jean Seberg (Kristen Stewart) when she becomes embroiled in the tumultuous civil rights movement in the late sixties in Los Angeles. The film will hold its World Premiere on the first Friday of the Venice Film Festival and subsequently at Toronto.
Military Wives, produced by Koliko Films, stars Kristin Scott Thomas and Sharon Horgan who start a military wives choir whilst their husbands are on a tour in Afghanistan. Music and laughter transform their lives as the women help each other overcome their fear for loved ones in combat. The film will hold its World Premiere at Toronto;
Tim Roth and Clive Owen star in The Song of Names, produced by Riba Films, which will also premiere at Toronto. This emotional detective story is spread over two continents and half a century. Beneath the film's stunning musical revelations burn the horror of a war and the lost souls extinguished from history.
Dirt Music, produced by Pelgo Films, will premiere at Toronto. The films tells the story of a woman stranded in a relationship with a man she doesn't love, in a small fishing village on the coast of Australia. An encounter with a local pariah results in an affair that dredges up secrets and changes all of their lives. Starring Kelly MacDonald and Garrett Hedlund, and from the producers of Brooklyn and Lion the story is based on the award-winning novel by Tim Winton.
As you may recall from previous issues, Watership Down, produced by Ingenious Broadcasting 14/15, fund company Eleos Productions Ltd, was nominated in multiple categories for an Emmy award. We are pleased to announce that on 5 May, Watership Down won the award for ' Outstanding Special Class Animation Programme.'
And Ingenious backed Black Summer is the most watched scripted show on Netflix
Black Summer, which dropped on Netflix on 11 April, produced by Diggy Productions Ltd, is the most watched scripted show in the UK on Netflix. Black Summer comes from the Ingenious Broadcasting EIS 8 fund and has received a lot of positive attention in a short amount of time.